How I wrote a chapter in a collaborative book.
Back in August 2020 on the very night that the ex abruptly terminated our relationship, I remember saying to him that I was going to write the book. I had no idea at that point how things would unfold. It took me eight months before I could focus on anything, I started to feel a little more positive although my situation was far from secure. I engaged a company in January 2021 and they had led me to believe that they helped in conflict resolution and mediation. So with this company supposedly helping me, I did feel that things might improve.
My First Book
Around the time that I started the outline of my book, I had been active in a group called GriefHab by Samatha Ruth on Facebook. I had made a comment in the group that I was starting out to write my first book. I was then invited by Samantha to take part in writing a chapter for a collaborative book. Thinking about my situation I didn't want to write about that before I had completed my book. I chose to write about an experience I had when I was just 27 years of age.
I first met Samantha M Ruth through her Facebook group #GriefHab I know the pain of losing a partner very suddenly. I was 47 at that time he was 52 he suffered a fatal heart attack. However, when I found GriefHab it was because I had been abruptly discarded by the partner I had been with for the past 11 yrs.
Regained Some Confidence
At 59 yrs of age, you think that you have come to a time when life is about enjoying the future. I had regained some confidence after a period in which my partner had confessed to my face about seeing another woman while in the UK. The pain and deep trauma was unbearable. He didn't confess in order to make things better, he wanted me to accept he could have a double lifestyle. The panic attacks, the sleepless nights, the thoughts spinning in my head. I had no clue how I could get through the anxiety. I had all different emotions of fear, anger, hurt and disappointment.
I have studied a lot of personal development throughout my life. The thoughts of being grateful thankful and forgiving were far from my mind. Until one morning I woke and the inner voice said to me. "You are killing yourself slowly". So I had to do something to help myself. I went back to the personal development materials and yes, negative thoughts and emotions can lead to physical illness.
Forgiveness Statements
I found my own way through releasing anger. I didn't journal at that time but I did write some letters to the universe. Including my letter to the other woman. Then I had some statements that I would repeat out loud every night and every morning. My own forgiveness statements. It started to work. Eventually, after 9 months my partner ended the affair with this other woman. I started to recover and regained confidence. Started to live my life again. Hopeful for the future. I created three blank journal books and put them for sale on Amazon.
During 2019 I had put the pain behind me I started enjoying yoga, I did a couple of art classes, I began to have ideas again around building an online business. I even joined a dance group with my Spanish neighbours to join in the Cartagena Carnival that would be in February 2020. Life felt good. Then obviously Covid hit the world in March. My partner made the decision not to return to the UK he didn't want to get stuck in the UK unable to return to Spain.
Transformation Breakthrough Therapy
We spent time together talking about plans for the future and working on projects around the villa. I was transforming the land creating paths and planting cactus and succulents. The flight restrictions were lifted. My partner returned to the UK the plan was to pack a hired van with a lot of furniture and personal items. He left in July and booked his return for August. While in the UK he booked a 2 day transformation breakthrough coaching program. He wanted to improve his health and reduce his back pain. He flew out to Spain the day after the breakthrough therapy. The day after he arrived we spent the whole day talking he wanted to tell me everything about his experience. How he had had this massive transformation and how he felt so much better.
Help Me To Find The Success In Business
It was so very strange. He even talked about paying for me to have the same experience. He even talked about booking flights to return to the UK, how he would hire a car, book a hotel and be with me while I did this 2-day transformation breakthrough. I questioned him as to why I would want to do that. His reply was that he thought it would help me to find the success in business that I always wanted. I wasn't sure. The next day was also very strange. He was acting differently towards me. It was later in the evening that I would discover why. (On reflection, maybe it was a way for him to get me back to the UK and out of the Spanish property before discarding me, who knows what goes through the thoughts of a person whose mind has been shaken up like a snow globe.)
We had entertained friends at the villa as soon as they left he said let's have a nightcap and sit in the comfy seats on the porch. We both sat down on the porch and the first sentence started alarm bells ringing in my head.
"I've got something to tell you," he said.
Flashback to 2017 and his confession to my face.
The next sentence out of his mouth was.
"I'm in love with another woman, we can remain friends if you want to remain friends, we just can't have sex anymore."
This is my story. I started to write my book in April 2021. I self-published in May 2022 using my author pen name Loren Keeling. There is a message in this book. Hoping that I can get this message out to all the people who need to hear it. I want to be able to educate, inform and bring about changes, yes all very big goals. I am determined that I will achieve this.

This was how I became involved in the project for "Faces Of Mental Illness" I posted in the GriefHab group about my experience of grieving and anxiety, and about my reasons for writing my book.

The "Faces Of Mental Illness" book project was inspired by Claudia Fernandez-Niedzielski, Samantha Ruth and also Kate Butler as publisher. You can read my story and nineteen other stories from people who have lived experiences of mental illness. We share our stories in "Faces Of Mental Illness" in a collective effort to break stigmas, inspire hope, and change the way the world views Mental Illness.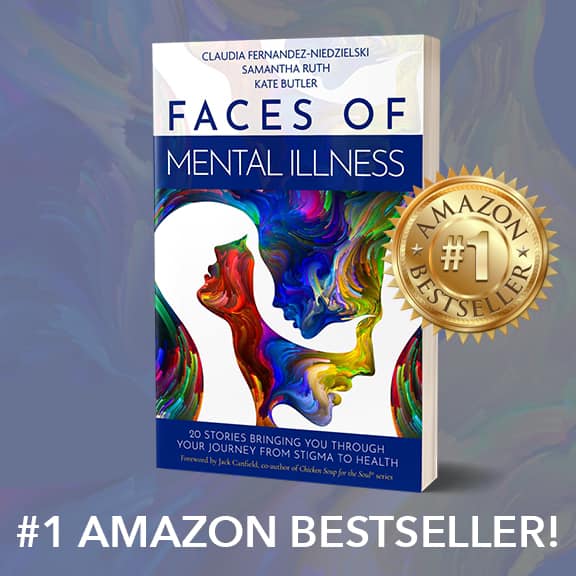 You can read my story and nineteen other stories from people who have lived experiences of mental illness. We share our stories in "Faces Of Mental Illness" in a collective effort to break stigmas, inspire hope, and change the way the world views Mental Illness.
The forward is written by Jack Canfield.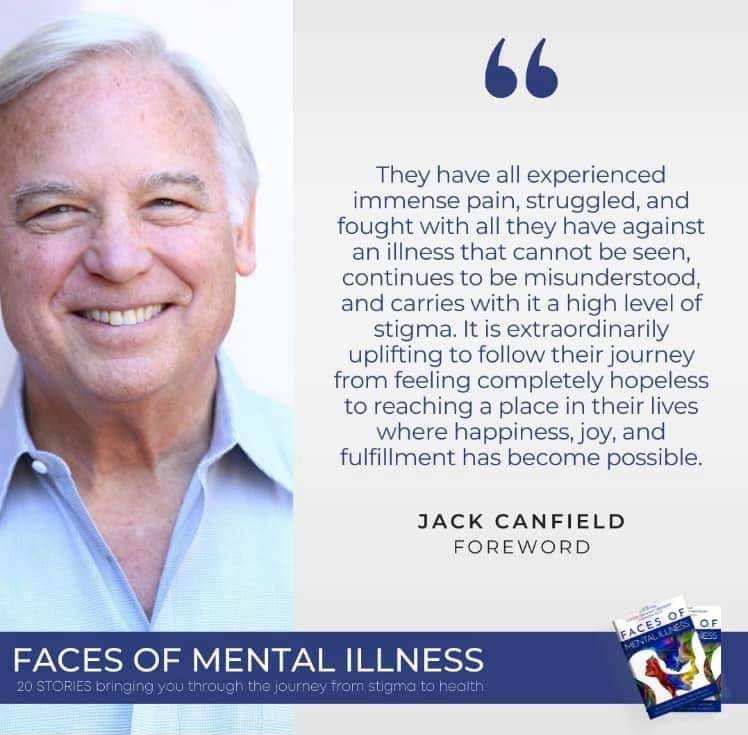 Also in April 2021, I started my first YouTube Channel. I had no clue what I was doing I was modelling videos that I was watching and learning from. Then in June 2021, I invested in training to learn more about creating videos and monetizing with affiliate links. I started posting review videos on this second channel. However, it seemed that every time I took a step forward in my life to try and make better of my situation the Ex was one step behind.

He was pushing me to leave the property, setting deadlines and offering derisory sums. From March and April 2021 with the mediator as the go-between, I was offered £13,000. While the original offers were 50% of the sale value or he was willing to sell the property to me for the €115,000 which was 50% of the valuation that had been done in August 2020. Then after I took things into my own hands, there was an agreement of £40,000 the mediator informed me that they had received an initial sum of £3,000 and I would receive this as soon an arrangement was made for the Ex partners MG Sports car to go into storage, I packed up all of his personal items as well.

The storage company arrived as planned and the vintage sports car was moved onto the trailer all the suitcases and his personal possessions were removed to go into storage. So I kept my side of the bargain. I had been told the £3,000 would be in my account a few days later. One week went by, and I asked about the payment, and the mediator had an excuse about being busy with court cases. Another week went by and again I received another excuse from the mediator, he thought he might have Covid. Another week went by, I am now thinking I have been manipulated again. When I call I get another excuse, there has been a death in the family. The truth was that no sum of money had been paid into the company account. He had lied to me.

I posted this video on Facebook on the 18th of June 2021. After I had discovered that the Ex-partner and the mediation company had lied and manipulated the situation.

The Ex partner offered me 50% of the value of the home we were meant to share. €115,000. 29th August 2020. Within days I was being threatened with being thrown out onto the streets. 4th September 2020. Then again September 15th 2020 I had to listen to him as he went through what he wanted and what he needed. As he lost control and I became the person to blame.
The goalposts were moved so many times. It has been one huge roller coaster ride. April 2021 offer was £13,000 then it went to £40,000 In June 2021 he wrote his offer was £25,000. A week later it was £30,000
In July 2021 an agreement of £40,000 was reached in two payments £10,000 in 1 month then £30,000 on sale agreed. In fact, the prospective buyers were ready to pay a deposit and were going to meet the next day to sort it all out. The only thing was he moved the goalposts again. He altered the agreement to say that the £30,000 would not be paid until after I moved out of the house or vacant possession. The gender violence solicitors had been telling me all along that it should be money first then leave.

He emailed the agreement to me the night before the deposit was due to be paid.
The next day I was trying to contact him, no answer. I was pacing the floor I had a very strange feeling like I felt nauseous. I had no communication until later in the day when he told me the buyers had dropped out. Even when I informed the Ex partner he could have his house back, he could have vacant possession, and that I had somewhere to go he refused to meet or pay any of the money or even to communicate again. You see he was in control, I had NO power, he held all the power, and I had no one on my side to negotiate for me and help me to get out of the situation with some dignity and financial security. He did not treat me with basic human decency, he showed no empathy or respect he would take no responsibility for the situation that he had created.

This is what happens when one person has control of the finances in the relationship. This is what can happen when you trust someone that you love, and they betray you. They cheat on you multiple times, they lie and manipulate you. They are unpredictable, they change their minds they can go from Mr Nice Guy to Mr Nasty at the flip of a coin.

I heard nothing from him until January 2022. Out of the blue, I received an email. "Happy New Year Loraine" Oh my! as if nothing had happened. He had someone who wanted to view the house.
Would I accommodate a viewing? I did not reply immediately, I had a friend help me to draft a reply. I told him I would accommodate the viewing i he would honour his first financial proposal.

The next email I received was not friendly at all. He told me I was now at risk of the Guardia turning up unexpectedly and I would leave with just my personal possessions. I'm not being vindictive. I just want my house back. Strange that he would say that because when I offered him his house back in July 2021 when I had the offer of a place to rent, he refused to cooperate or communicate. When the facts were that if he paid the money he had agreed to pay then the purchasers who were willing to pay the deposit could have gone ahead with buying the house. But oh no, not him. He would rather force an eviction and put me through even more trauma.

I am writing the sequel to my first book, the title of the book is "Deceptions and Illusions. Embroidered with Truth" You can find my first book on Amazon and Worldwide digital platforms. "Post Separation Abuse. Betrayal and Abandonment, What Type of Man?" I will also be launching my PodCast very soon.